Entertain clients or build camaraderie and boost team morale with a unique corporate culinary event! Create your selected menu entirely from scratch and savor your culinary creations in our beautiful corporate event venue. Designed to spark creative conversation and fun for all, our events encourage participants to get active in the kitchen while they stir up delicious menus and a good time.
Our kitchen is perfect for your next meeting! 
We offer different style of classes from demonstration, competition to hands-on cooking classes for all skill levels. We make it fun, easy, and flavorful. Join us for an amazing experience on the art of cooking. 
Attendees can range from 8 to 25 people.
Parties run approximately 2 and half hours.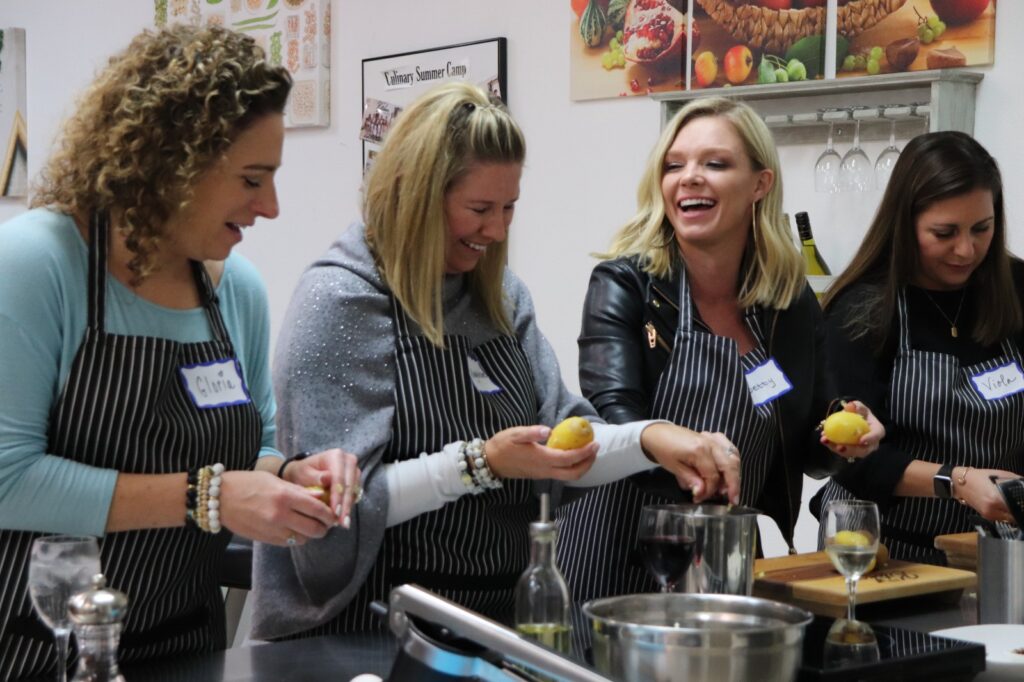 We supply everything you need for a great and delicious Meal, including all the food needed for the party. 

Professional Assistance to help you to set up your party and clean up after. Let us do the work so you can have fun with your child and your guests.

Aprons

Photographs (Emailed) 

Class Recipes  (Emailed).
Chef Recommendations.
Handmade Pasta (vegetarian) – Most Popular!
Recipes: Fresh Fettuccine Pasta, Roasted Butternut Squash Ravioli, Hand-folded Spinach Ricotta Ravioli, Rustic Tomato Sauce
A Taste of Italy – Eggplant Parmesan (vegetarian) – Most Popular!
Recipes: Fresh Eggplant Parmesan, Wild Mushroom & Truffle Oil Risotto, Cannoli Rolls
Tasty Thai (gluten-free & dairy-free) – Most Popular!
Recipes: Pineapple Chicken Satay Skewers, Nut-free Pad Thai, Colorful Summer Rolls, Coconut Basmati Rice
A Tour of Tuscany (vegetarian) – Most Popular!
Recipes: Roasted Garlic Potato Gnocchi, Garlic Spinach Potato Gnocchi, Brown Butter Sage Sauce, Tuscan Kale Salad & Tomato Confit, Chocolate Dipped Biscotti
A Taste of India (vegan)
Recipes: Garam Masala (spice blend), Tofu & Chickpea Tikka Masala, Homemade Naan, Veggie Samosas, Spiced Basmati Rice
A Taste of Italy – Chicken Parmesan
Recipes: Fresh Chicken Parmesan, Wild Mushroom & Truffle Oil Risotto, Cannoli Rolls
Chinese Takeout (dairy-free)
Recipes: General Tso's Chicken, Chicken Scallion Dumplings, Honey Soy Dipping Sauce, Fortune Cookies with Handwritten Fortunes
Classic French Countryside – Ages 21+
Recipes: Coq au Vin (Braised Chicken), Lyonnaise Potatoes with butter and fresh herbs, Green Salad with Lemon Vinaigrette, Handmade Crêpes with Berry Coulis
Cooking with Wine (gluten-free) – Ages 21+
Recipes: Salmon en Papillote (steamed in folded pouch), Bacon & Leek Risotto, Red Wine Poached Pears, Cinnamon Whipped Cream
Handmade Pasta Twist (vegetarian)
Recipes: Fresh Spaghetti Pasta, Hand-rolled Spinach Garganelli, Roasted Red Pepper Alfredo, Nut-free Supergreen Pesto
Incredible Handmade Pizza
Recipes: Classic Margherita Pizza, Pizza alla Bismark (Brunch Pizza), Mushroom Lover's Pizza
Let's Brunch
Recipes: Poached Eggs Florentine, Cheddar Cheese Biscuits, Sweet and Spicy Bacon (yes, please!), French Toast Sticks, Mimosas (you bring the bubbly)
Mediterranean Favorites
Recipes: Beef Kofta Kebabs, Dolmades (Stuffed Grape Leaves), Colorful Greek Salad with a Red Wine Vinaigrette, Fresh Tzatziki, Creamy Hummus
Sushi & Dumplings (dairy-free)
Recipes: Sushi Rolls including Uramaki, Maki and Temaki (sushi highlights crab and veggies and does not use raw fish), Special Spicy Mayo Sauce, Fresh & Colorful Veggie Dumplings, Honey Soy Dipping Sauce
Tapas Espanolas
Recipes: Hand-folded Butternut Squash Empanadas, Albondigas (Spanish Meatballs), Patatas Bravas with Spicy Sauce & Garlic Aioli
We can't wait to have you in our kitchen! Please fill out this form and a member of our team will contact you in less than 36 hours to discuss scheduling, pricing and the menu.